Locations in the Boston area and on Cape Cod
Arlington Store
783 Massachusetts Avenue
Arlington, MA 02476
(781) 643-4040
Monday - Saturday:
Sunday:
Falmouth Store
12 Spring Bars Road
Falmouth, MA 02540
(508) 548-6482
Monday-Saturday:
Sunday:
Our online batik store is always open.
Like us on
New at Fabric Corner:
New at Arlington Feb. 8, 2014
New line from Lotta Jansdotter
30% off with a 1 yard minimum purchase
New flannels and fleece have just arrived
New Class!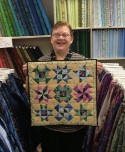 Press for Success: A Template Free Precision Patchwork Quilt Sampler
Taught by Laurel Miller
A 6 session workshop beginning January 12.
The cost is $125
Please sign up now by calling Fabric Corner Arlington at 781-643-4040
New Event!
Fabric Corner's Guilded Evening
Exclusive events for quilt guilds!
Special discount on fabric
Exciting door prizes
Cookies and coffee
Have your guild representative call 781-643-4040 and ask for Mark Winer. He will be glad to coordinate a special evening for your guild.
Siraco's Sharpening Service
Bring your scissors, knives, and garden tools in to Fabric Corner Arlington for sharpening.
Store mailing lists:
Sign up for our store specials mailing list to receive e-mail notification of store sales and periodic special coupons.